Description
Connection type
 

Bluetooth

Water Resistant Depth

5 ATM

Display

1.74-inch FullView

Battery life

Up to 10 days

Battery capacity

292 mAh

Compatible with

Android / iOS

Supported satellite systems

GPS / GLONASS / Beidou / Galileo / QZSS
Overview
1.74-inch HUAWEI FullView Display- With its 1.74-inch AMOLED display, framed to perfection by ultra-narrow bezels, 72.2% screen-to-body ratio, 18.6% larger display area, WATCH FIT 2 gives you exactly what you need with just a raise of the wrist. Bluetooth Calling- HUAWEI Watch Fit 2 isn't just a watch; it's your bona fide communications hub, with support for Bluetooth calling, quick message replies, and imported contacts! You can know your calls come to your wrist, and answer or reject them. An all-purpose health manager- HUAWEI Watch Fit 2 provides high-level smart features to manage your health, including SpO2, heart rate, sleep, and stress tracking. Custom daily task reminders, which can be set in the Huawei Health App. Durable Battery Life- A full charge on your watch powers up to 10 days of typical use, or 7 days of heavy use, listen without limits and live life to the fullest, without losing any sleep! You can even get a whole day of use on just 5-minute charge. Quick-Workout Animations- With exclusive fitness animations, and voice-guided warm up stretches for 7 common workouts, including running, cycling, and swimming, you can get the most out of your every workout. Overview HUAWEI WATCH FIT 2 Smartwatch comes with 1.74-inch AMOLED HUAWEI FullView display, 72.2% screen-to-body ratio, 18.6% larger display area, Bluetooth calling, Quick message replies, Automatic SpO2 monitoring, Accurate heart rate monitoring, HUAWEI TruSleep 2.0 sleep monitoring, HUAWEI TruRelax stress tracking, Healthy living management, 10-day durable battery life for typical usage, Quick-workout animations, 97 workout modes, Five-system GNSS and route back, Independent music playback, Voice assistant, AOD and Watch Face Store, press-to-release Link design.
Details
6 Things to Love
Wear your heart on your sleeve
HUAWEI WATCH FIT 2 offers a nimble dial with features that are perfect for everyday use. You can find inspiration in the Watch Face Store, where you'll be able to craft your own style and make it stand out from any other watch on earth!
Tap to transfer
We all have those moments where we need to be somewhere in a hurry and forget about everything else. At this point, if you don't want your phone out on the table for anyone who might come over or just simply cannot find it anywhere then there is an app that can help! The Watch Screen faces allow users to set pictures from their own phones as watch screens with only one tap - no longer will they worry whether it's time yet because now these photos will always stay right at arm's length ready when needed most.
A battery that goes above and beyond
The world's first watch that can power up to 10 days of use, or 7 normal days with heavy use. Listen without limits and live life to the fullest! You'll get a whole day out if just 5 minutes on a charge- it has never been easier than this before A full charge will give you enough energy for about one week - so go ahead: listen all night long while on a camping trip.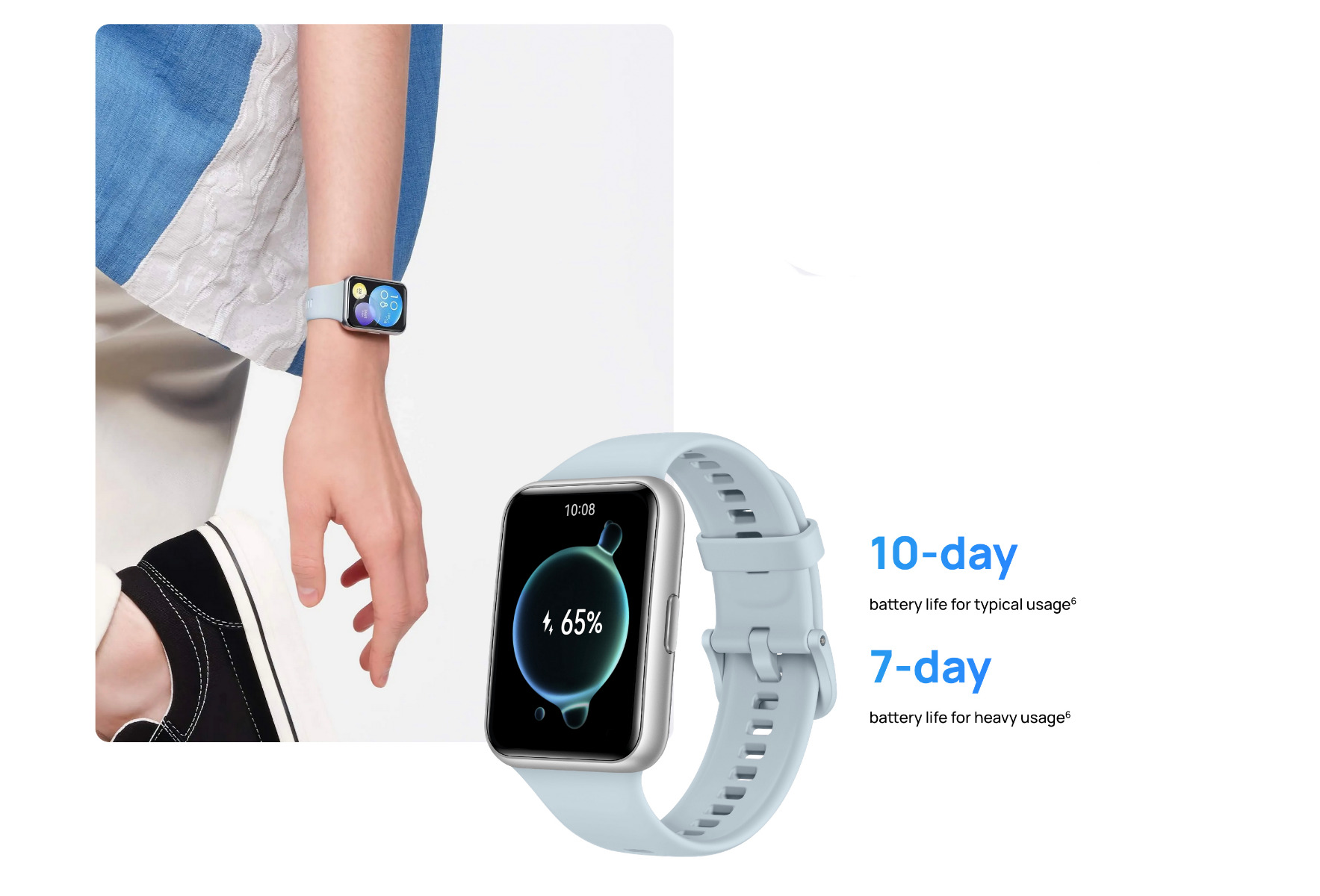 Slide right, for silky smooth service
With a simple swipe, you can now access your voice assistant without even opening up the phone! The HUAWEI Assistant∙TODAY screen shows what's going on at this moment and gives easy access to all of its features. You'll be able to set alarms or timers with just one tap away from anywhere at any time - so wherever life takes us today...we have our assistant with us always
This passage talks about how there's no need for an actual button press when using their new feature because it does everything through gestures which makes them more convenient than ever before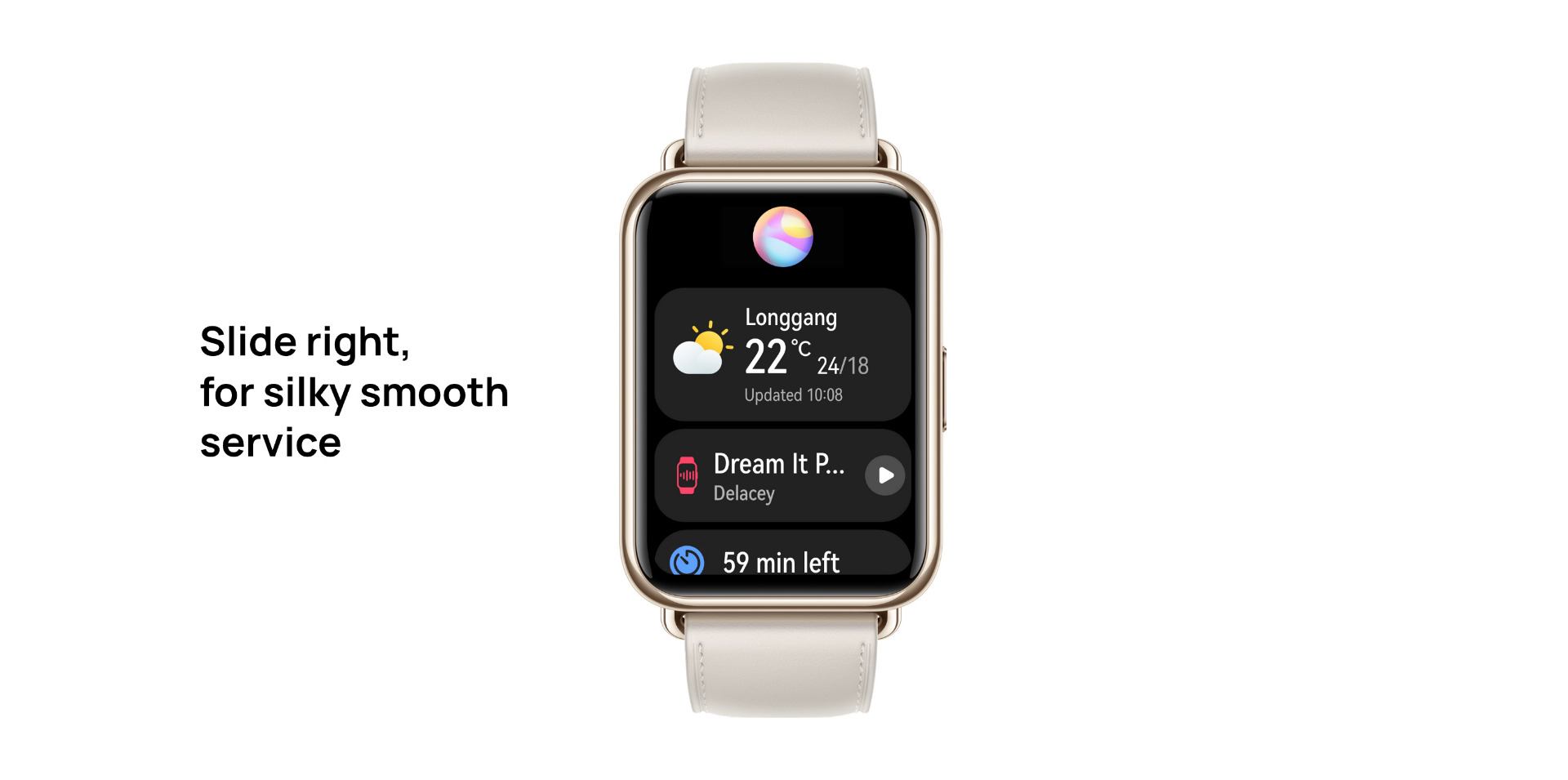 Gets you moving
With voice-guided warm-ups and exclusive fitness animations, you can get the most out of every workout. Whether it's running or swimming - these videos will help give your muscles that extra push they need to perform at their best!